alpenvital.
Winter Holidays
Winter at Lake Achensee
Come to Pertisau on the Achensee and experience a true winter fairy tale. The mountains covered in a thick blanket of snow, trees in their glittering white dresses, a fun snowball fight, exactly what comes to mind when you think of a real winter holiday. Pertisau offers a great mix of recreation and relaxation, sport and even a bit of party atmosphere.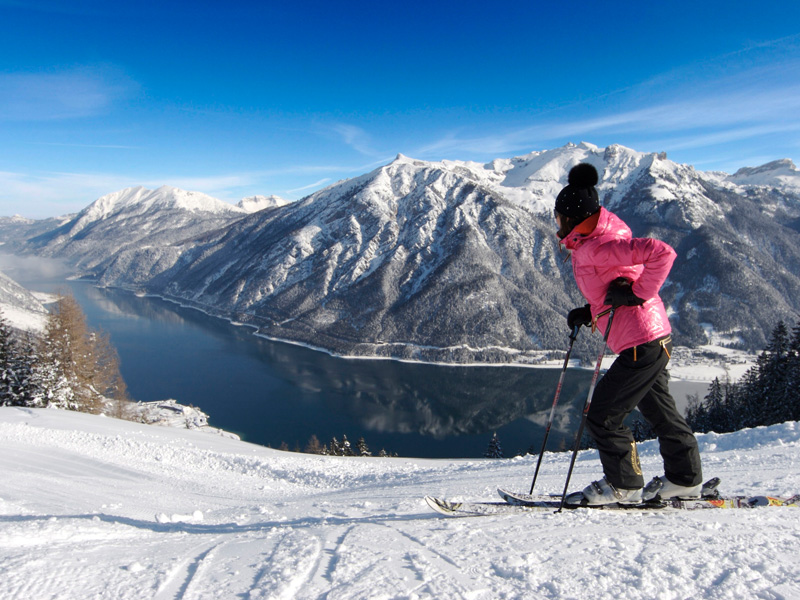 skiing.
with breath-taking views
The Karwendel cable car whisks you right up to the Zwölferkopf ski area, where you find a special kind of skiing pleasure. No crowded slopes, no lift queues and at the same time a stunning view of the snow-covered valley and beautiful blue Lake Achensee. With its 12 kilometres of ski slopes, our ski area is particularly popular among families. Here, you can comfortably let the children do their own thing on the slopes, while you relax on the terrace of Alpengasthaus Karwendel or weave your way down the ski runs yourself.
Click here and see this gem for yourself: Karwendel cable car
There is also plenty of variety – the free ski bus can take you to the nearby ski resorts, Rofan in Maurach and to Christlum in Achenkirch.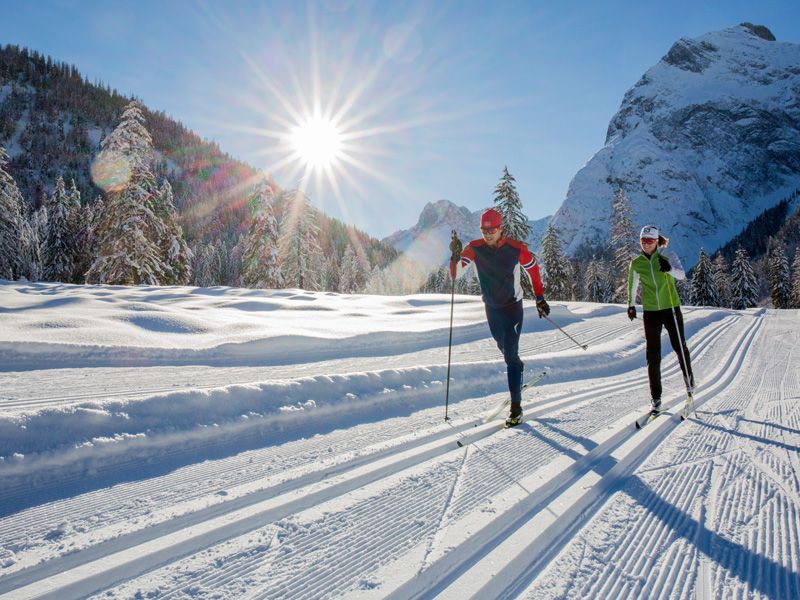 cross-country skiing.
classic & skating
In addition to classic skiing, cross-country skiing is also hugely popular in Pertisau, among the locals too. Our small town has at least 180 kilometres of groomed tracks suiting both the classic and skating cross-country styles; some even have snowmaking. The starting point for all cross-country ski trails is the cross-country skiing centre, just a few steps away from the Alpenvital. From here you can head off to enjoy the stunning snowy countryside of the Karwendel valleys. And since exercise undoubtedly makes you hungry, we recommend calling in to one of the charming Alpine huts for a bite to eat along the way.
If you would like to have a go at cross-country skiing, we will gladly arrange an instructor, who will teach you the right technique - how to brake, for example!
And for all experienced cross-country fans, there is a fantastic cross-countryevent at the end of February: the 3-Täler-Lauf, or 3-Valleys Run.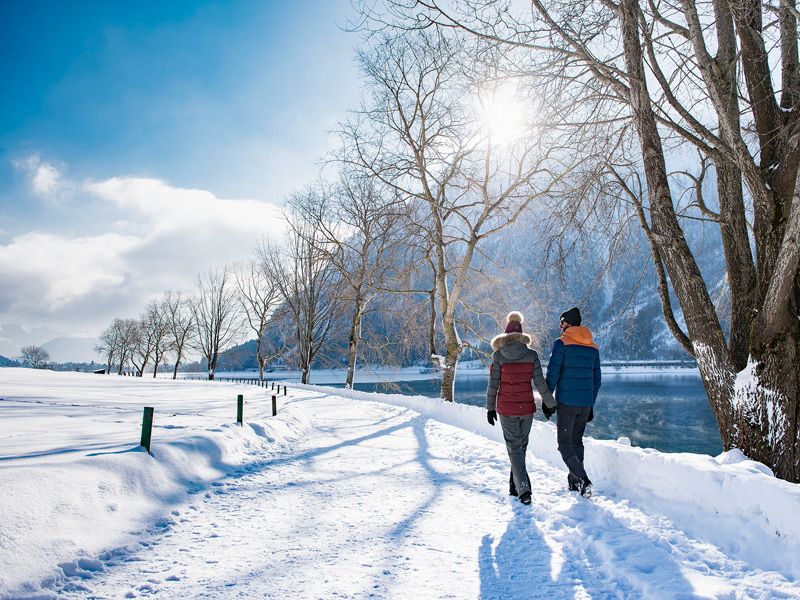 winter sport.
exceptionally diverse
You will find a variety of cleared winter hiking trails in the Karwendel valleys, along the lake and through the forest. A particularly beautiful trail starts right outside our Alpenvital and takes you across the snow-covered (in winter) golf course. Then after an energetic stomp through the snow, when you are unwinding in your cosy apartment or our sauna, you realise exactly why you chose to spend your winter holiday at the Alpenvital in Pertisau.
A winter holiday is not complete until you have had a fun-filled tobogganing outing. Pertisau has a natural toboggan run with a total length of 4,5 km. The Karwendel cable car takes you easily to the top of the mountain where you can directly start with the toboggan fun.
For something a bit different, snow biking is another fun activity to try. It involves sitting with short skis strapped to your feet on a small bike, which has skis instead of wheels. Turning happens quickly and after a few failed attempts you will soon be showing off some daring manoeuvres on the slopes. Have a go!
If you are still not tired after all these activities, you can slip on a pair of ice skates and continue having fun. Just a few steps from the Karwendel cable car, the ice rink beckons you to reawaken your childhood skills, or maybe just watch your own children make their first wobbly steps on the ice.